Do you have a short story or the first chapter of a novel that has a dystopian theme? If so, we want to hear from you!
Pro Publisher is pleased to announce a brand new dystopian fiction competition designed for writers looking to take their creative output to the next level. Might that be you?
All you need do to enter the competition is submit your short story or first chapter of a novel, along with your contact details. You may submit up to three entries. Entry is free and there are three great prizes up for grabs, all designed to help new and existing authors improve the quality of their work and increase their self-publishing know-how.
---
Theme: DYSTOPIA
Your story must be set in a dystopian society – think Orwell's 1984 or Margaret Atwood's The Handmaid's Tale.
Can you write about the essential struggles of the dystopian society? Then get an entry into the Dystopian Fiction Competition.
The work must be your own. Stories published within the past 18 months are acceptable, but there must be no copyright issues.
We will not claim any copyright on your submitted work but winners will agree to our publishing the winning entries on the website. (Copyright will remain entirely yours.)
---
The PRIZES!
The winner receives a choice of Pro Publisher writing courses plus a self-publishing course. The winning entry will also be turned into an EPUB, complete with custom cover, ready for uploading to Amazon, etc.
Two runners-up each receive a Pro Publisher self-publishing course.
---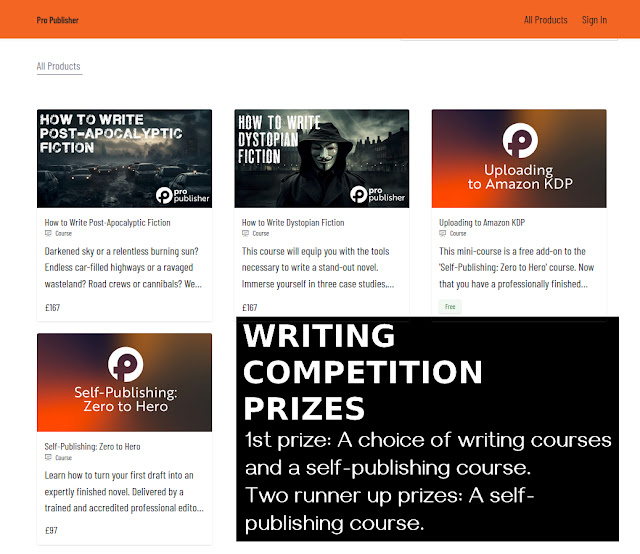 What a great boost to your writing skills and your career as an author – get working on your entries now!
---
ABOUT THE JUDGE

Paul runs the freelance editing business Seminal Edits. He's been working with writers for over five years now; Pro Publisher is the latest stream to his field of work.

Drawing on his vast experience with writing and publishing, he helps people to evolve into professional-level writers putting out a product that is on par with anything produced in the mainstream.

He has the academic learning, writing acumen, editing and publishing experience, even a pedagogical background – all wrapped in the creative intuition that gives Paul unique insight into the needs of authors.

Paul's mission is to help take authors' writing to the absolute best it can be!
---
Listen to this short audio interview with Paul to find out more:
Submission details
Deadline for entries to the Dystopian Fiction Competition is Sunday 1st October 2023.
Maximum WC 2,000 words, and should include your name and email address.
Entry is free. Up to three stories may be submitted.
Entries accepted in .doc, .odt, .pdf, .rtf.
Send your entry via email to seminaledits[at]mail[dot]com​.
The winner's story will appear on the Seminal Edits website.
---
Competition is now closed. Winners will be announced on October 21st. Watch this space!